Technical Support
(877) SEPAX-US, press 3
TechSupport@sepax-tech.com

Contact Us

|

Sign In

|
---
SEC Phase Screening Kit


Brochure
| P/N | Dimension | Buy or Quote |
| --- | --- | --- |
| SECKIT-7830 | 7.8×300mm | |
| SECKIT-4630 | 4.6×300mm | |
Sign In
to see pricing
SEC Phase Screening Kit includes our two best-selling SEC columns: one Zenix™ 300 Å, and one Zenix™-C 300 Å, columns.
Zenix and Zenix-C 300 Å 3 µm columns combined together offer two unique surface coating chemistries, ideal as screening tool for MAb and Protein researchers in search of sample specific optimized and preferred coating chemistry. The kit includes separation profile data on various sample types such as, MAb, PEG, BioRad standards, and etc., demonstrating the absolute necessity of a SEC surface coating screening step prior to start of your SEC method optimization.
Zenix™, Zenix™-C SEC phases
Developed based on innovative surface coating technology comprised of uniform, hydrophilic, and neutral nanometer thick films chemically bonded on high purity and mechanically stabilized silica. The two different types of coating chemistries, Zenix™, stand-up monolayer bonded on porous silica, and Zenix™-C, lay-down monolayer on porous silica, offer ideal phase chemistries for specific sample type separation. The 3 µm based Zenix™ and Zenix™-C allow for high resolution and performance separation. The combination of SEC phases provides a powerful total solution for robust, reproducible, and highest resolution size based separation of biological molecules in the market.
Stationary Phase Structure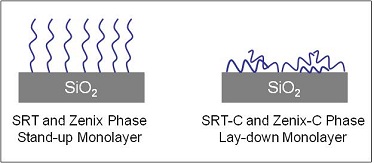 Phase structure difference: a monolayer stands up on the surface for Zenix™, and a monolayer lays down on the silica surface for Zenix™-C.