Technical Support
(877) SEPAX-US, press 3
TechSupport@sepax-tech.com

Contact Us

|

Sign In

|
---
Proteomix HIC Phase Screening Kit
P/N
Description
Buy or Quote
HICKIT-4603
Proteomix HICButyl-NP5, 4.6×35 mm
Proteomix HICPhenyl-NP5, 4.6×35 mm
Proteomix HICEthyl-NP5, 4.6×35 mm
Proteomix HICPropyl-NP5, 4.6×35 mm
Sign In
to see pricing
Proteomix® HIC Ethyl, HIC Propyl, HIC Butyl and HIC Phenyl phases are comprised of rigid, spherical, highly cross-linked non-porous polystyrene/divinylbenzene (PS/DVB) beads with narrow-dispersed particle distribution. Utilizing proprietary technologies, the resin surfaces are grafted with ethyl propyl, butyl or phenyl group that offers different degree of hydrophobicity, to facilitate chromatographic separation of biomolecules (Figure below).


Hydrophobicity is increased from ethyl, propyl, butyl to phenyl phase respectively, as shown in a separation of ovalbumin and chymotrysinogen under HIC running conditions.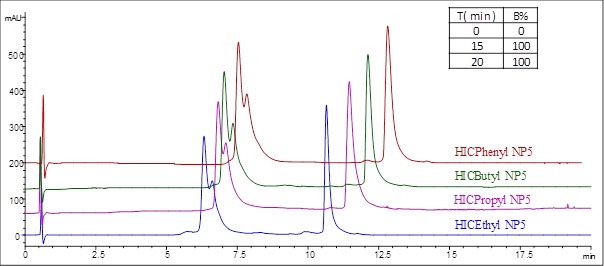 Conditions
Columns:
4.6 × 35 mm
Mobile phase:
A: 2 M ammonium sulfate in 0.1 M sodium phosphate, pH 7.0
B: 0.1 M phosphate pH 7.0
Flow rate:
0.4 mL/min
Temperature:
25 °C
Detector:
UV 214 nm
Injection volume:
4 µL
Sample:
Ovalbumin 1.0 mg/mL, Chymotrypsinogen 0.5 mg/mL
© 2018 Sepax Technologies, Inc. All Rights Reserved.