Technical Support
(877) SEPAX-US, press 3
TechSupport@sepax-tech.com

Contact Us

|

Sign In

|
Leader in Biological Separation
---
As a manufacturer owning core know-how and intellectual properties on chromatography materials science and engineering, Sepax Technologies has developed a wide range of patented and proprietary technologies in the areas of base bead synthesis, surface chemistry and column packing that have established itself as one of the leaders in chromatographic analysis and separation. We serve our customers for analytical to process applications on small molecules to biological macromolecules.
Resin Technologies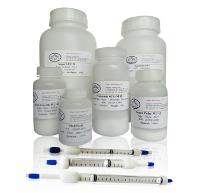 We have established three platforms of base-bead resin technology: Silica, Polystyrene/Divinylbenzene (PS/DVB) and Polymethacrylate (PMA) with well-controlled particle sizes ranging from 1.7 to 100 µm and pore sizes from non-porous to 2000 Å. On the base beads, a broad spectrum of innovative surface modifications has been developed to meet the ever-advancing customer needs for chromatography analyses and separations.
&nbsp - Silica-based Resin Technology
The integration of Sepax's silica technology and surface chemistry innovation has enabled multiple product lines, including reversed phased (RP), ion-exchange (IEX), and size exclusion chromatography (SEC) resins for small and biological molecules. Our market-leading SEC product line includes Unix ®, Unix ® -C, Zenix ®, Zenix ® -C, SRT ®, SRT ® -C, SRT ® -10, and Nanofilm ® . These products have particle size selection of 1.8, 3, 5 and 10 µm and pore size selection of 80, 100, 150, 300, 500, 1000 and 2000 Å.
&nbsp - PS/DVB-based Resin Technology
Sepax's non-porous PS/DVB particle technology offers particle size selection of 1.7, 3, 5 and 10 µm. The non-porous particles have unique properties of fast mass transfer and minimized lateral diffusion that enable high resolution separation. The integration of non-porous PS/DVB beads and innovative surface chemistries has led to Proteomix® ion-exchangers, Proteomix® HIC and Antibodix™ WCX product lines. Proteomix® SAX, WAX, SCX and WCX offer a complete solution for ion-exchange separation of biological molecules. Antibodix™ WCX is specially designed for separation and analysis of monoclonal antibodies. Proteomix HIC series are ideal for hydrophobic interaction separation of biomolecules, such as ADC samples. Among these products, 1.7 µm particle is a leading technology for achieving highest efficiency separation.
Sepax's porous PS/DVB particle technology has enabled the development of our Proteomix® RP and PolyRP™ products for hydrophobic and reversed phase analyses and separations with well-controlled particle sizes of 3, 5, 10, 15, 30 and 60 µm and pore sizes of 100, 300, 500 and 1000 Å. Our monosized PS/DVB base bead technology leads to the synthesis of PMA particles of narrow size distributions (D90/D10 ≤ 1.3). PolyRP™ is a polymeric revered phase bulk resin, highly stable over a variety of operational conditions. Compared to silica-based reversed phase resins, PolyRP™ is stable at extreme pH (1- 14) with a similar separation efficiency and better selectivity. They are stable to resist high temperatures up to 200 °C (operating temperature up to 80 °C), and compatible with many commonly used organic solvents and aqueous buffers.
Sepax's low cross-linking PS/DVB particle technology offer the particle sizes of 5 and 10 µm with cross-linking degree of 5, 8 and 10%. By functionalizing the low cross-linking PS/DVB particles with sulfonic acid (-SO3H), followed by chelating of metal ions, Carbomix® product lines have offered our customers advantages in carbohydrate separation.
&nbsp - PMA-based Resin Technology
Sepax's Monomix™ PMA particle technology has produced resin base beads of highly uniform sizes (D90/D10 ≤ 1.3) with particle sizes of 10, 15, 30 and 60 µm and pore sizes of 500 and 1000 Å. The integration of the Monomix™ PMA particle technology and innovative surface chemistries has led to Monomix™ MC SEC size exclusion chromatography resin product line and Monomix™ IEX ion-exchange chromatography resin product line. Monomix™ MC SEC resins have proprietary hydrophilic surface functional groups that minimize non-specific binding. Key benefits of this product line include: highly stable over a variety of operational conditions, broad pH tolerant range (1-14) (an advantage over silica-based SEC resins), elevated operating temperature (up to 80°C), high operating pressure (up to 20 bar), high theoretical plate number, smooth surface and highly spherical particles (easy column packing), compatible with many commonly used organic solvents and aqueous buffers. Compared to agarose-based resins, Sepax Monomix™ MC SEC resins have stronger base beads and can resist higher column back pressure and higher operation flow rate. Additionally cleaning and CIP are user friendly and effective, thus prolonging resin life, increasing purification productivity and reducing purification cost. Monomix™ MC SEC resins have demonstrated performance in the separation of proteins, polysaccharides, VLP, and other biomacromolecules.
Sepax Monomix™ IEX ion-exchange chromatography resins enable the separation of native biological samples without disruption of high order structures. They have been widely used in the analysis and separation of ionizable pharmaceutical molecules. Currently commercially available IEX chromatography resins are mostly based on soft agarose or polymethacrylate particles, which only accommodates low pressure operation. Sepax has developed the alternative polymethacrylate-based ion exchange media that can stand higher operation flow rates.
Column Packing Technologies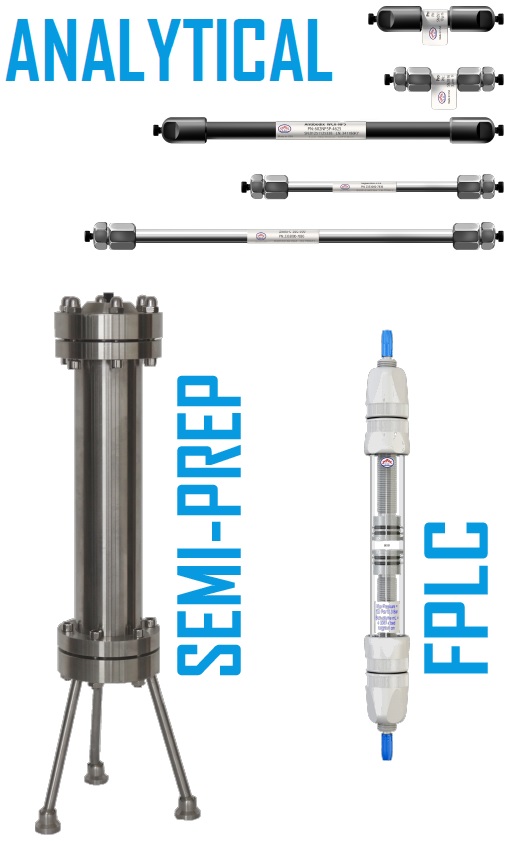 With over 17 years of extensive column packing experience, Sepax has developed technologies for packing a variety of LC columns, including micro with ID from 75 µm to 1.0 mm, analytical with ID from 2.1 to 7.8 mm, semi-prep and preparative with ID of 10, 21.2, 30 and 50 mm, and industrial scale columns with ID from 50 to 800 mm. Sepax also packs FPLC columns with ID from 6.6 to 300 mm.
Surface Technologies
Sepax has developed a broad scope of unique chemical processes for synthesizing monomeric and polymeric thin films on both flat and particle surfaces. Our unique processes allow us to make neutral, cationic or anionic coatings with a controlled thickness from a few nanometers to more than 100 nm on internal or open surface uniformly. The primary Sepax surface chemistry expertise includes:
Silane chemistry on SiO2 surface for reversed phase chromatography, such as C18, C8, C4, phenyl, etc.
Silane chemistry on SiO2 surface for normal phase chromatography, such as cyano, amino, diol, etc.
Chemical functional groups for ion exchange chromatography on PMA, PS/DVB and SiO2 surfaces
Chemical functional groups for hydrophobic interaction chromatography on PMA and PS/DVB surfaces, such as butyl, ether, phenyl, etc.
Affinity chemistries on agarose, polymer and SiO2 surfaces
Nanometer thick hydrophilic coating for size exclusion chromatography
Mixed-mode chemistry for ion-exchange and hydrophobicity on PMA and SiO2 surfaces
Sepax can also synthesize uniform coatings of polyacrylamide or polyethylene glycol on the internal surface of capillary tubes with ID from 15 to 75 µm. Those coated capillary columns with controlled or reversed EOF provide reliable and highly efficient separation (N >1.5×10
6
/m for 20µm ID column) for Capillary Electrophoresis (CE), which has unique applications in high-throughput analysis, such as proteomics.
Liquid Chromatography Services Capability

With more than 100 chromatographic resins and over 1000 different LC columns manufactured in house, Sepax has accumulated a broad scope of expertise to serve our customers for their various liquid chromatography needs for a wide range of small molecule and biopharmaceutical samples, including
ADC
,
Antibody
,
Biosimilar
,
Carbohydrate
,
Cell Lysate
,
DNA/RNA
,
Fusion Protein
,
Glycoprotein
,
Heparin
,
Insulin
,
Membrane Protein
,
Natural product extract
,
Organic Acid
,
PEG/PEGylated Protein
,
Peptide
,
Polymer
,
Protein
,
Vaccine/VLP
. Sepax's liquid chromatography services include:
Analytical Chromatography
Column and sample screening method development and optimization
Validation services and on-site method transfer
Stability and batch-releasing tests according to customers' specifications
In process sample quantitative method development
USP monography testing
LC/MS analyses
Prep and Process Purification
Laboratory to process scales
mg to kg quantity sample preparation per customer specified purity
Antibody and recombinant protein purification
Native protein from natural sources purification
Natural product purification
Method development and scouting services
Custom Resin
Resin surface chemistry modification (silica, polymer and agarose)
Custom affinity resin conjugation
Pre-activated resin for ligand immobilization
Resin base bead development, including control of particle size, pore size, degree of cross-linkage, chemistry spacer arm, linker, etc.
Custom resin manufacturing per customers' specifications for lab-scale to production quantities using fully controlled reactors of 2000L volumes.
© 2023 Sepax Technologies, Inc. All Rights Reserved.